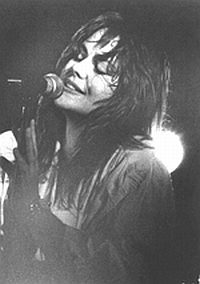 Live performances in Europe have included backup work for artists such as Paul Young, Johnny Logan, Alannah Myles, Tony Hadley (Spandau Ballet), Haddaway, Nick Kershaw, Bananarama, Katrina (& the Waves) Leskanich, Martin Fry (ABC), Maggie Reilly (Mike Oldfield), Carol (T'Pau) Decker and Nick van Eede (Cutting Crew) ; special guest vocalist with The Steve Hooks Jazz Quartet, Albert C. Humphrey's Backyard Blues Band and the SWR1 Band; and fronting duties for various gala bands. She also heads her own project - The Fletcher Perry Party - which has performed at numerous clubs, such as Munich's Hard Rock Café (Freddy for a Day, Sing for your Supper, etc) and Hotel Bayerischer Hof Nightclub (Faschings party, Lange Nacht der Musik), as well as for corporate and private clients, such as Bosch Siemens, Iveco & BMW; and headlined numerous festivals such Munich's Tollwood Festival. Ms. Perry has also performed in the musical revue show Nights on Broadway, and has been a featured member and guest soloist with various Gospel groups, including her own project Soul of Gospel. One of her favorite projects ... performing as rock & blues legend Janis Joplin in The Hippie Hippie Shake Tribute Band.
Erin Perry is star material. She has looks, pipes and personality to more than overshadow her competition ... the lady has more soul than you'd find in a Fayva (shoe) store and more emotion than my lover after a quarrel.
Music Connection, Los Angeles
Tom Kidd, Entertainment Editor
Live stage performances in US & Canada include fronting such top drawing acts as True Confessions and Restless Society where she played to packed audiences at historic LA rock venues such as The Roxy, Whiskey a Go-Go, Madame Wongs and others. She's shared the stage with various artists, including Spencer Davis, Hoyt Axton, The Power Station's Michael DeBarre, Mike Pinera (Iron Butterfly) and Todd Wolfe (Wolfe & Sheryl Crow).
Studio work in LA includes demos for Little Caesar's Loren Molinaire, MCA's Jan Storey, 7/11 Sound Studios and backup work for artists such as House of Lords and producer Andy Johns (Led Zeppelin). She has also sung on many TV & Radio commercial jingles (Hoffys, Shaeffer & Sons, Chicken Tonight). Erin also played the flute on jingles for various American radio station.
Erin has appeared on live Canadian television on several occasions, serving as co-host as well as musical guest of the record breaking TeleMiracle telethon. She served as co-host of the pilot for Rock Window Magazine, where she shared hosting duties with former MTV VJ Mark Goodman. She also appeared on VH1 Europe's series Takin' it to The Bridge with artist Johnnie Fiori.
erinperry21@hotmail.com
0049 (0) 173 461 8837
Studio work in Munich includes sessions with many top artists, songwriters, and studios, including Deutsch film Michael "Bully" Herbig's new animation film "Sissi und Der Wilde Kaiser", Zoe ("Could it be you"), Four Colourz ("Anything"), Pilot and Park Studios, Hells Angels ("Seven Spanish Angels", country music duet with Mark Coonradt), Haddaway, Wolfgang Schmid ("Shame on you", duet with film maker Michael Moore); jingles for FNN radio network (Deutsch); as well as house/dance labels such as Milk & Sugar ("Let the sunshine" and "Higher and higher"), House Pacific ("Joy" TV commercial for German magazine, "In the Sunshine", "Skoda", etc) and Marcel Krieg & Future Funk. Ms. Perry was also chosen to sing the songs of Janis Joplin for the CD Siggi Schwarz & The Rock Legends - Woodstock, which included rock icons Steve Lukather (Toto), Geoff Whitehorn (Bad Company), Chris Thompson (Manfred Mann's Earth Band) and more.
She has also provided voice over work for Bavaria Studios and language coaching publications Business Spotlight and Digital Publishing.
Erin Perry ...TOLL ...Was für eine Stimme!
House of Rock, Germany
In addition to television hosting, Erin has served as a presenter for various events including Amazon's Summer Party and OCE's Open House 2006 , the largest Annual Printing fair in Europe. MC'ing a dozen high energy shows per day at the main stage at OCE's week long fair, Erin had to juggle interacting with special effects, rear screen projectors, acrobats, and more, all in front of a live audience. Ms. Perry recently polished off her actingchops, performing in Vagina Monologues in Munich, Germany.
As a songwriter, Ms. Perry has also provided material for other artists and outlets, including "Do You Care", which was used in the german TV series "Die Rote Meile" (Sat 1) and placed on the soundtrack CD. She also provided various musical cuts for the DSF game show "Sports Quiz". She placed two songs that she co-wrote and sang - "Se Como Como" (Quantum, "Romantic Underground - the winter edition" and "We learned to Smile" on House/Dance Compilation CD "The Saturday Club - 2Cute to BStraight"
Erin worked for two years as the vocal coach for the "Freie Musik Akademie" in Passau, Germany and has taught at various workshops in Europe. She created the workshop series Set up to Zugabe - Performance Workshop for Singers. She also teaches privately in Munich and has provided in studio coaching for recording artists & producers such as Zoe, Ralph Siegel (various Eurovision teams).